We are almost through January of this new year.  (Heeello 2015!  Are you over yet?)
Are you still on that health kick you promised yourself?
I bet you went out at the beginning of the month and stocked up on all the good for you vegges that you could, didn't you?  And if I were a bettin' woman, I'd also bet spinach was one of those items.  Whether you are fond of it or not, you bought it – economy size.  And now it's just sitting in the fridge.  You are officially smoothied and salad out.  (Which I don't know how that could ever happen.  At least on smoothies.)  Whether you are still on the health trail or you jumped ship on day two, you're probably rackin' your brain thinking "What in the devil am I gonna do with all that spinach."
Well you are in luck my friend.  I have got just what the doctor ordered.  (Because it's spinach.  The doctor always orders more greens in your diet.  Right?)  My spinach walnut pesto has all kinds of good for you ingredients.  And more importantly, it's another way to use up that 2 pound pack of spinach you just bought.
I actually prefer this pesto recipe to say a basic basil pesto because,
Basil is usually expensive for how much you need in a pesto recipe.
I usually have spinach on hand.
Pine nuts can be ridiculously priced and what in the heck do you do with all those nuts besides make pesto.
Walnuts are always in my freezer for when I get the hankering for Banana Bread.
So before we get started, you will need some special equipment for this recipe; either a food processor or blender.  (I just use my Vitamix.)  You do not want to attempt this without one of those.  In fact, it would be near impossible to do so.  Now let's get started…
Start off by toasting the walnuts in a dry skillet on medium heat.
Keep 'em moving.  You don't want to burn the nuts.
Now, when you start to smell that nutty aroma, you know they are finished.  Immediately remove them from the heat.  Because the oils are now released, the walnuts will burn very quickly if left on heat or in a hot skillet.  So go ahead and empty the nuts out into your food processor or blender.
Sprinkle in some salt and top with spinach.  Pour in about 1/2 c of broth.  I am using vegetable because that's what I had today.  But feel free to use chicken stock/broth if that's what you have.
Give it a few quick pulses to get things going a bit.  You're mixture will be thick and chunky at this point.
Add in the parmesan and EVOO.  Finish it up by turning your machine back on.  If you notice that it's still too thick for your liking, drizzle in some EVOO while you blend on low.  Don't add too much,though, your pesto will end up tasting oily.
Alrighty, you are finished!  You can use it right away or store it in an airtight contained in the fridge.
I like to store mine in a mason jar.
I would only keep it in the refrigerator about a week.  If you know that you want to hold on to it for longer,  you can freeze pesto.  The only difference in the recipe is that you will stop before adding in the cheese.  The cheese doesn't freeze well in the mixture.  Store in a freezer safe container for up to 1 month.  Thaw completely in the fridge before putting it back into your processor or blender and adding the cheese.
This stuff is so delicious.  It's nutty, salty and really good for you.  I could eat it by the spoonful.
My favorite way to use pesto is, of course, with pasta.  But you can also top eggs with it or use it on a sandwich.  Try it out!  Tell me what you think.
Enjoy!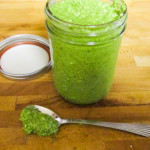 Print Recipe
Spinach Walnut Pesto
Ingredients
1/2

cup

walnuts

2

cups

baby spinach

pinch

salt

1

clove

garlic

minced

4

oz

fresh parmesan

cubed or grated

1/2

cup

vegetable broth

1/2

cup

extra virgin olive oil

divided
Instructions
Toast walnuts in a dry skillet on medium to low heat until fragrant. This should only take 2-3 minutes. Immediately remove from heat.

Place in a food processor or blender, walnuts, salt, garlic, and spinach. Pour in 1/4 cup of the vegetable broth.

Pulse ingredients a few times in machine to slightly combine.

Add in cheese and half of the oil. Blend well.

Drizzle in remaining oil while blending to get the desired consistency.

Use immediately or store in an air tight container in the refrigerator. Store up to 1 week.
Notes
Recipe makes 16 oz; plenty for 1 lb of cooked pasta.