I am continually impressed with Little Bear's school.  As a whole, they are amazing.  Especially in the fact that they try to include the community in events going on at the school.  What does this have to do with food trucks?  Well, they have begun a tradition of Food Truck Thursday.  One Thursday a month the school will host a group of various food trucks.  The school and the whole surrounding community are invited to come down and experience some the fine food available at these trucks.  In return, the trucks give a portion of their sales for the evening to the school.  Amazing, right?!  We get the opportunity to scarf on some mouth-watering deliciously gourmet food and the school gets a little extra in the funds. Win, win in my opinion.
This past Thursday, our whole family got to experience a few of metro Phoenix's food trucks.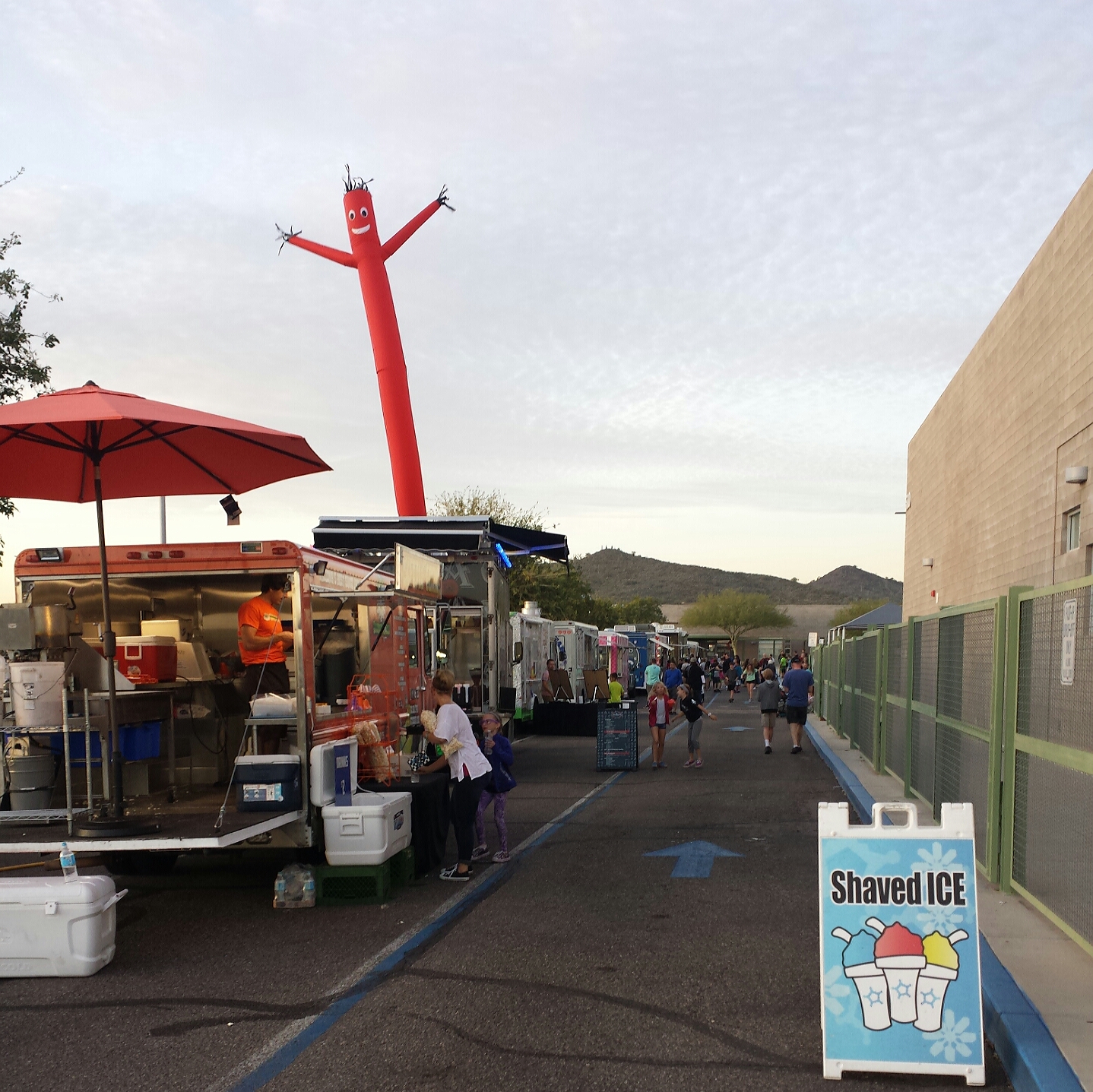 I'd say there were 8-10 different trucks this week.  You had chicken to kettle corn.  A good variety for families.  And I'm almost embarrassed to say it, but we sampled 5 of the trucks.
Little Bear had a corn dog (shocker!) from Rooster's Kountry Kitchen and a bag of sweet kettle corn on the way out from Cactus Corn.
Mr. O had "the southie" from this place, the United Steaks of Cheese.  I'm assuming it was good…there was nothing left of it. hehe
Myself, I had this…
Behold, the chicken panini from PRESS Italian Street Food with crispy potatoes topped with a Gorgonzola cheese sauce.
A.May.Zing
This whole basket of food was heaven.  Absolute heaven.  The sandwich was juicy grilled chicken, tart granny smith apples, arugula, and basil pesto held together between two generous slices of a crusty country load by creamy mozzarella cheese.
I ate so much, I was about to roll out of the parking lot.  If you ever see their truck, stock them.  The food is delish.  You can thank me later.
I followed my meal with a perfectly prepared latte from Affogato.
I know, I know.  A regular latte sounds boring and simple.  I get it.  But you would now believe how many places screw it up – royally.  (Even Starbucks struggles in this area.)  So I was pleasantly surprised when I sipped my hot frothy beverage; it wasn't bitter or too milky.
What might have been more impressive, was the setup inside the truck itself.  It was beautiful stainless machines making sweet music as each drink was prepared.  A thing coffee drinkers only dream of. *sigh*
All in all, the food was good and so was the fellowship.  If I'm honest with myself, my favorite part was Little Bear being able to visit with some friends outside of the traditional school day.
We'll see what the next Food Truck Thursday has in store.  I can't wait!