Happy Earth Day friend! I hope you are your family are well and finding ways to celebrate and enjoy our planet a little more today.
I don't know about you, but for me, it seems like Earth Day is this big wake up call to do better and be better for our environment. Which is what it should be! But sadly, it seems 90% of those promises we made when the world was talking about saving the planet are forgotten the next day. So for Earth Day 2020, I want to make moves to truly benefit the environment for the 364 days till the next celebration. For our family that means promising to use more reusable products, doing our part to help with the foodchain shortages, and making less waste. I have rounded up my favorite brands and products to help us turn these goals into actionable steps this year.
Below are my top six brands to shop for Earth Day must-haves 2020.
(P.S. most of them are having killer Earth Day discounts!)
Re-Play Recycled
If you follow me on Instagram (@thebourboncactus), it's probably no surprise that this company is at the top of my list. Our whole family LOVES re-play goods! Our casa has an almost complete rainbow of all the divided plates. I use these smaller plates for the kid's breakfasts, lunches, and dinners, as well as, my meals at times.
Why I love them
So aside from Re-play Recycled products being great for the whole fam, I love that this company is dedicated to its mission of saving plastic from ending up in the landfills. All of the plastics used in producing their products are recycled, food-safe and BPA, BPS, PVC, lead, phthalate, and surface-coating free. So many wins there! And just to show you how much they care, the company includes a little card in your order that lets you know how many milk jugs you saved and were used in the production of your new goodies. And did I mention that Re-Play is American made, family-owned and operated? Well, they are!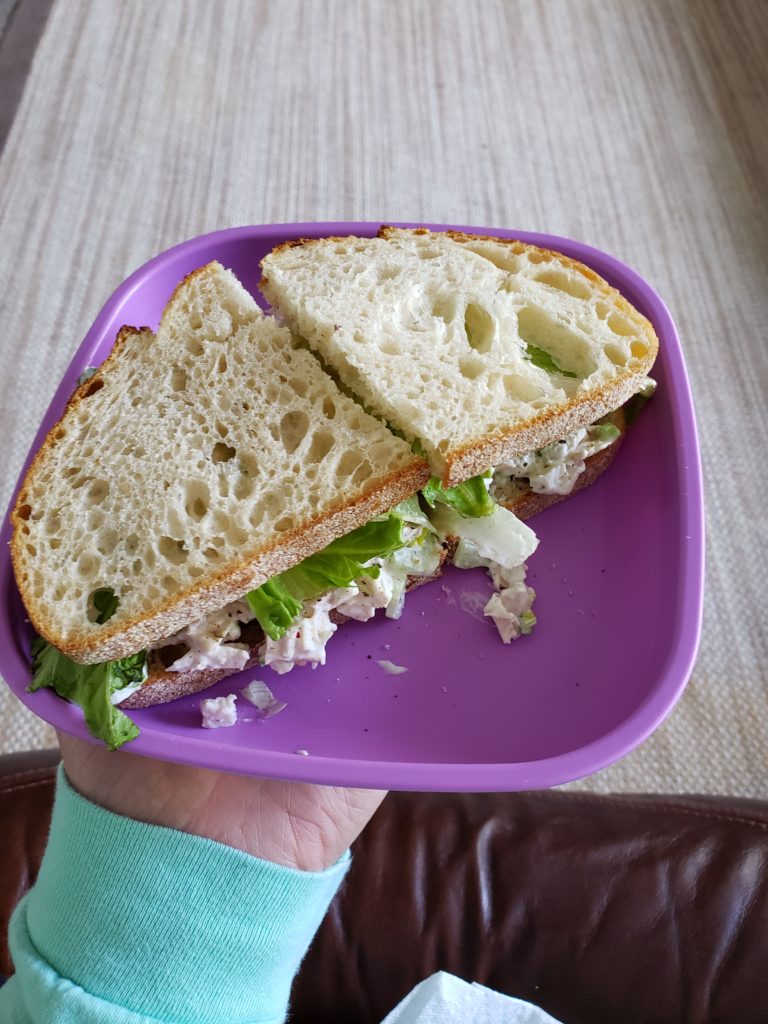 Our favorite products thus far have been the regular and divided 7-in plates, 12 oz bowls, utensils, and no-spill cups. But I definitely have my eye on the stacks, regular cups, and larger plates and bowls. And today is an excellent time to buy with their Earth Day sale of 20% all single items! Use code EARTHDAY20 through 4/24/20 at 9:30 AM EST. Shop here.
Final Straw
Final Straw is a company that I've had my eye on for almost a year. They make reusable, travel-friendly straws. The straws are a combo of stainless steel and platinum-grade silicone – the best and safest silicone there is. Their unique patented design allows the final straw to fold down into a carry case the size of a remote key fob. I believe it's fair to say this young company, founded in 2018, is making strides in the green living space.
Why I love them
Easy to clean, easy to carry. Final Straws make it easy to say no to the plastic straw because of it's compact and travel-friendly design. Even the travel case is eco-friendly! The case is made better by using post-consumer recycled HDPE. Not only does the case house your straw, but it also holds a telescoping cleaning brush to make cleaning on-the-go easy. Final Straw gets extra points for having multiple color options to fit everyone's style.
Final Straws do run a little pricey due to the high-quality materials used in production, but they are running a massive sale this year for Earth Day. All straws are BOGO free! I'd say these straws definitely qualify as an Earth Day 2020 Must-Have! (I made sure to purchase 2 straws plus carabiner clips.) Sale runs through 11:59 PM on 4/23/20. Shop here.
Stasher Bags
Stasher bags are my new favorite kitchen accessory! I first purchased stasher bags back in December and quickly fell in love. These platinum-grade silicone bags replace the need for plastic zip-top bags. Plus they function so much more beautifully: no worrying about holes, and they are freezer, microwave, and dishwasher safe. There are so many sizes and the colors are amazing!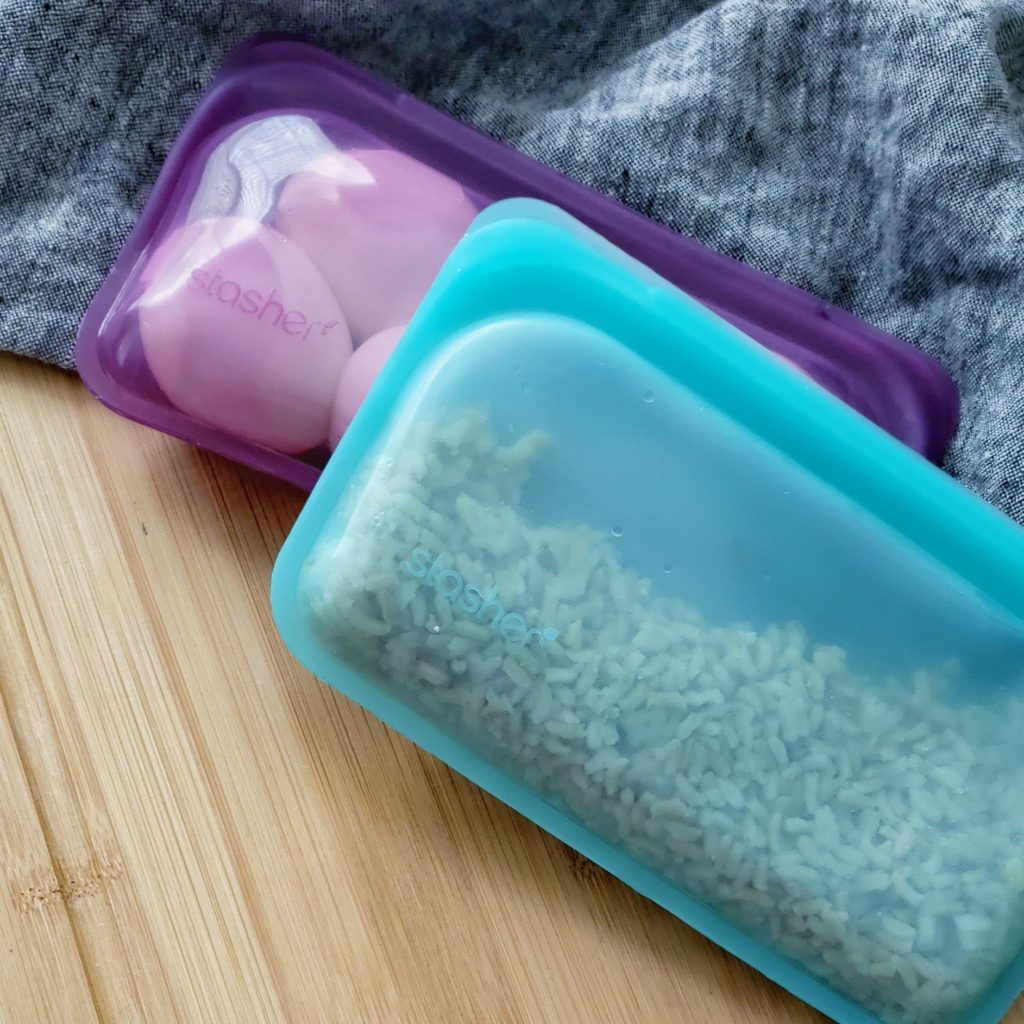 Why I love them
Stasher bags are a house fav because of their versatility. Right now we mainly use them in the kitchen for storing leftovers and packing snacks. (WE only have a few bags.) But you can use stashers just as you would a traditional zip-top bag….but just wash when finished instead of throwing them away. (There is no away, FYI, but more on that another time.)
I am also loving stasher bags because there are no toxic chemicals. The silicone is completely safe and will not degrade over time. All stasher bags are BPA, BPS, lead, latex, and phthalate free, passing the strict European Union food safety standards. Plus, all orders ship package-free – bulk style – and is mailed in recyclable containers.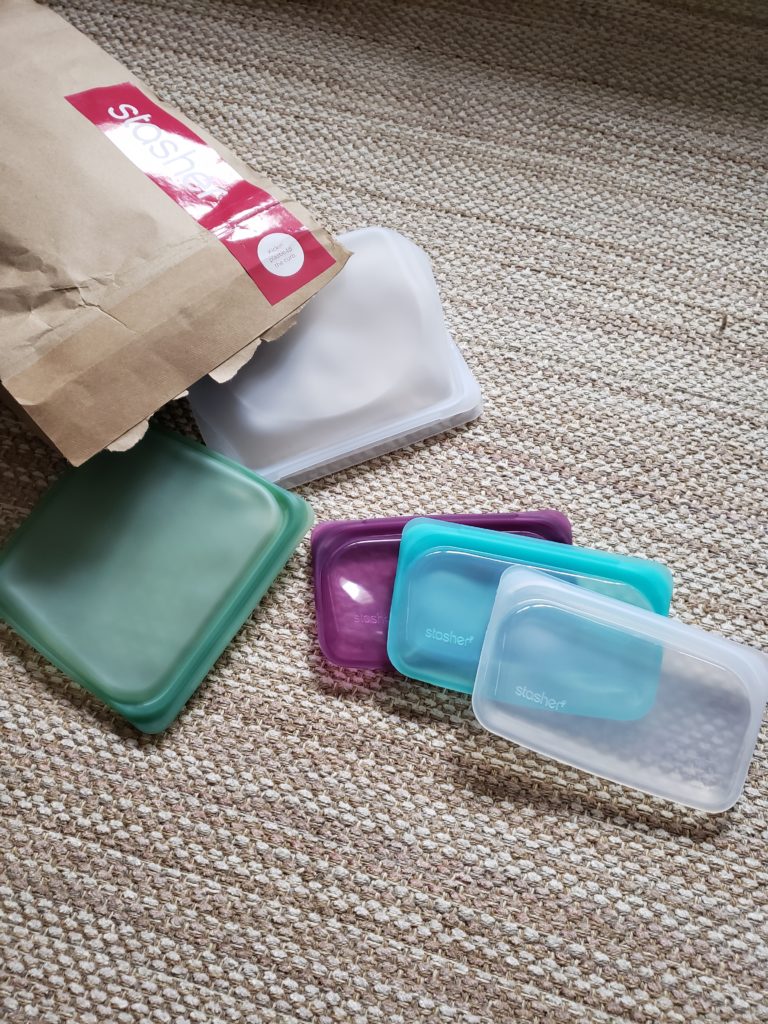 Stasher is one of those companies that does not run sales very often. But this year they are offering a generous discount of 25% off sitewide for Earth Day 2020. You don't need a code to get the discount and the offer is good through 4/23/20. Make sure to scoop up a bundle of bags or a few singles by clicking here.
Sili Pint
Funny name, amazing product! I had seen and heard of the Sili products for a long time before I ever owned one. Mr. O actually bought me my first Sili Pint. I was skeptical at first as to why this silicone cup was going to be so great for me. But it totally amazed me and has quickly become one of my favorite cups. My number one favorite thing about the Sili Pint is the colors – so rad. And the cups don't sweat, an amazing feature to have on a cup here in the south. Sili products also wash so well! I'm not a fan of handwashing. I have too many kitchen items that require that already, so I love that I can throw my Sili Pint and lid in the dishwasher.
Why I love them
For any company that offers a lifetime guarantee, you know they mean business. And Sili Pint obviously stands by their platinum-grade silicone products. I have found Sili Pints to be different than other silicone cups in the fact that they are environmentally safe and free from BPA. They won't shatter, melt, or collapse. And most importantly, no matter what you put in your cup, or if you heat in it, you don't have to worry about toxins leaching into your food or drink. You also don't have to worry about mold as silicone is hypoallergenic and, therefore, does not support microbiological growth. If for any reason you decide you are finished loving your Sili Pint product and it ends up in the trash, adding to the ever-growing waste stream, the silicone reduces back down to harmless ingredients and isn't harmful to the environment. Or, you can always send your item back to Sili Pint and they will safely and responsibly recycle the product.
Carry hot, carry cold…use it for the whole family. Sili Pints has something for everyone in the family, even the dog. While Sili Pint is not running an Earth Day sale, you can still purchase their pints, bombers, wine glasses, lids, etc., here (affiliate link).
Sand Cloud
Sand Cloud has the most luxuriously soft towels made of Turkish cotton. The woven wonders are beautiful and functional. The towels are sand resistant and quick-drying, making them the perfect choice for a beach trip. Their design is also lightweight for easy travel and packing. While the company is known for their towels, they are quickly becoming a go-to for other eco-friendly products like shirts, reusable cups/bottles, and straws.
Why I love them
This company, as a whole, is passionate about marine conservation: 10% profit from each sale goes toward cleaning up our oceans, educating, and preserving our world's marine life. Plus, Sand Cloud's goal of providing more sustainable products for consumers has lead them to create shirts made from recycled plastic. How cool!
This is another company that is not running an Earth Day sale, but they often have a pop-up when you go to their website that lets you sign up with your email to get a discount. Check out all the gorgeous towels and eco-safe products and shop here.
Marley's Monsters
For those who are ready to jump on the wagon to ditch single-use paper products, there is Marley's Monsters. This company started as a side hustle for a mom on maternity leave and turned into a genius business to help others on their journey to sustainability with zero-waste essentials. At Marley's Monsters, you can find alternatives to paper towels all the way to personal care items to help you reduce your impact on the environment. And the prints and colors are to die for!
Why I love them
I love Marley's because of the vast variety of products. They have something for everyone, no matter where you are in your green-living journey. (I'm starting with cloth napkins/paper towels and face rounds for my beauty care routine.) The company also reduces their own waste by strategically designing and cutting materials in a way that leaves little to no scrap. Any excess fabric they have is repurposed to form additional products for the shop. And just like Stasher Bags, Marley's Monsters is committed to sustainability by shipping and packaging plastic free.
Marely's Monsters is spreading the Earth Day love by offering 20% off the entire site through 4/24/20 at midnight. Use code EARTHDAYLOVE for the discount and shop here.
This year I feel like our family is focusing a little differently on Earth Day. With the current stay-at-home orders due to the COVID-19 outbreak, we have been forced to slow down. And with that slow down we have become a lot more aware of our surroundings and environment. This is a plus side of being stuck at home, really. We are learning to garden; we are learning how to be more resourceful with what we have; we are finding ways to create less waste; and we are spending more time outdoors.
I hope this post has inspired you and your family to also make moves to live a more green lifestyle, but in a way that is attainable. And these companies and products are top of the list for my Earth Day must-haves to make that happen.
(And yes, our family is still getting its fair share of TV time: but more of that television watching has been educational programs that are environmentally related. Anyone else been bingeing nature shows on Disney+?)
Have you tried any of these? Are you going to take a small – or big – step toward sustainability this year by purchasing some of these? Let me know in the comments! And as always, tag me on social media so I can see what you scored.