Over the last few of years, our family has been shifting towards a more non-toxic lifestyle.  This simply means we are choosing more natural products for our home and our bodies, and being more mindful of our food choices.
The biggest area of toxins in our home was cleaners. (Of course, right?)  And I am constantly looking for ways to make or use a healthier alternative to an abrasive store-bought cleaner.
One of the very first products I set out to overhaul were the sprays and wipes we always used in the kitchen.  I mean, think about it, those harsh chemicals are being used around our food!  So I absolutely had to find a better, more natural choice.
This post may contain affiliate links.  This means I receive a commission from purchases you make through these links.  Please read the Disclosure Policy for more info.
When I sat down to write up the recipe for my DIY natural kitchen cleaner, I knew I had to use essential oils*.  Generally speaking, essential oils can be great cleaners.
I chose Tea Tree Oil because of its highly effective antibacterial, antimicrobial, antifungal, antiviral, and antiparasitic properties.  And Lemon Oil for just a good disinfectant and pleasant smell.
*I only recommend Améo Essential Oils.  I cannot attest to others brands.
And I would like to add here, that when you use high-quality essential oils, like the Améo oils, it is imperative that you use only glass bottles to mix and store your blends or cleaners.  If you use plastic or even aluminum bottles, the potent essential oil can cause chemicals from the containers to leach into your mixture.
I have purchased this set of mixed size, blue glass bottles before and I really like them.
We all know how amazing vinegar is…
White vinegar has a pH of around 2.0 which makes for a very inhospitable environment for many microorganisms.  Additionally, it's excellent at cutting through kitchen grease.
And though it's boasted as a deodorizer (anyone else use it for laundry?) it has a strong smell.  <—- Thank you lemon oil for helping out here!
So when you mix the powerhouses of tea tree and lemon essential oils, the workhorse of white vinegar with the all-around gentle & natural cleaner of pure castile soap, you really have a great cleaner on your hands.
Make sure you use distilled water as your diluting agent.  You don't want any extra chemicals or minerals in your cleaning mixture that tap or spring waters can contain.
Here's how I make my favorite natural kitchen cleaner:
In a 16oz dark glass spray bottle combine
1 TBSP pure castile soap (I use unscented, but use any scent you wish)
1 c distilled water
1 c white vinegar
15 drops tea tree essential oil
10 drops lemon essential oil
Put the top on the bottle and shake well.
Due to the physical properties of the ingredients, it is necessary to shake the mixture before each use.
You'll want to label the bottle so you know which cleaner is what.  A paint pen works just fine or handwriting on a scratch piece of paper.  Though, if you use a waterproof label – like these – you won't have to worry about losing the info if the bottle gets splashed.  Another trick is to use a regular label and just place a strip of clear packing tape over top. 😉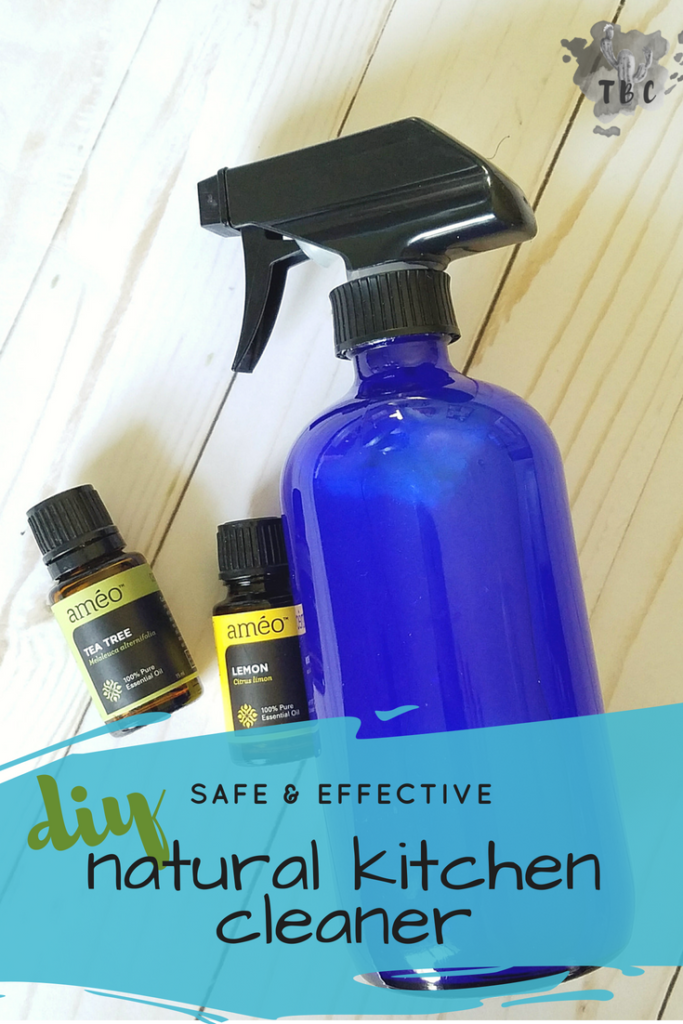 We use this cleaner on our kitchen counters, range, back-splash, and kitchen table every day.  There is no need to rinse, either.  Just shake, spray and wipe down.
This cleaner is safe enough that we let Little Bear clean with it.
Okay…okay.
I wouldn't say "let her clean".  It's usually more like tell her it's time to clean.  No sane person likes to clean. 😀
I hope this DIY natural kitchen cleaner helps you and your family make one step closer to living toxin free.
And I'd love to know what you think about it after you try it.  Drop me a shout out the comments below!