I've been a busy bee the past 3 weeks working on new projects.  Some of which have been Halloween/Fall themed.  And as I promised last time, here is one of the finished Halloween projects.
Whatever the holiday, we try to decorate for it in my family.  For Little Bear, it let's her know there is something different around the season or time of year.  And she looks forward to seeing what I come up with for decorations.  For Mr. O, he likes the home feeling, well, like a home.  As for me, I just enjoy knowing that everyone else appreciates and looks forward to it all.  So each year, I try to come up with something a little different than the year before.  I don't leave anything out, I just add one more thing to the decorating.  This year, it was something that I have had in my mind and on my list of "to-do's" for about two years.
So without further delay…dat-da-da-DA!  My whimsy Halloween "BOO" button pumpkin.  (It's the perfect no carve pumpkin decoration.)  Let's get this thing rollin'…
First, grab your supplies.
Here's what you'll need:
1 large craft pumpkin
assorted sizes of black buttons
a good craft glue, preferably one that dries clear
*As a side note, I used a craft pumpkin from Michael's – I think.  I had one of the FUNkins but honestly, the surface was a little too real for what I wanted.  I needed a pumpkin with a little less curves and bumps; that way my wording didn't look totally jacked up.  BUT…you be your own judge.  Use which ever type of pumpkin you want.  Also, over buy on the buttons.  You don't want to get half way into the project and find out that you don't have enough buttons or the exact size you need.
Now, the next steps I don't have pictures for.  I actually got a little too excited once I started and couldn't stop.
I suggest that you lay all your buttons out on your work surface before you begin.  I tried to even set them up in the way I wanted the letters to look.  FYI, I didn't follow what I pre-positioned.  But it did help a little when it came to finding the size that I needed to fill a hole.
There's no easy trick (or-treat) to applying the buttons to the surface of the pumpkin.  It's kinda a Hail Mary.  I just partially drew on the letters, placed buttons and repeated.  You may have to slide the buttons around a little bit once you get going, but this is why we are using clear drying glue.  And why I suggest laying out the buttons in the shape before you begin.  Or, at the least, knowing what style of lettering you want to make.
Okay, once you have spelled "BOO" – or whatever word you chose – let it dry.  Completely!  I think I let mine set for a whole day.  Now, at this point I wasn't entirely happy with the final look of the letters due to the varying sizes of buttons and the way they fit together.  So my solution was to use the tubed craft paint to fill in the holes.  (I used something like this.  I did use the regular slick paint because my buttons did have a sheen to them.  So I wasn't worried about it blending in.)  Word of advice on this;  work at filling in the holes a little bit at a time because it is easy to get carried away and "fill-in" too much.  I would work a little, then stop and go fold clothes then come back with a fresh pair of eyes and begin again.  This step took me a little longer, but it's fine.  I needed to get some actual house work done anyway.
I think it turned out pretty good.  I'm pleased with it.
When I finished, I felt it needed a little something "special" without taking anything away from the lettering.  So I added a burlap-ish ribbon bow to the top.  And I actually didn't adhere the bow to the pumpkin.  That way when Halloween is over, I can simply take the bow off and turn the pumpkin around and use it as a basic fall decoration.  (Yeah, I'm cheap like that.  Those craft pumpkins are a bit pricey and I'm not up to purchasing real pumpkins for all of my decor even though they can be less expensive.)
So What do ya think?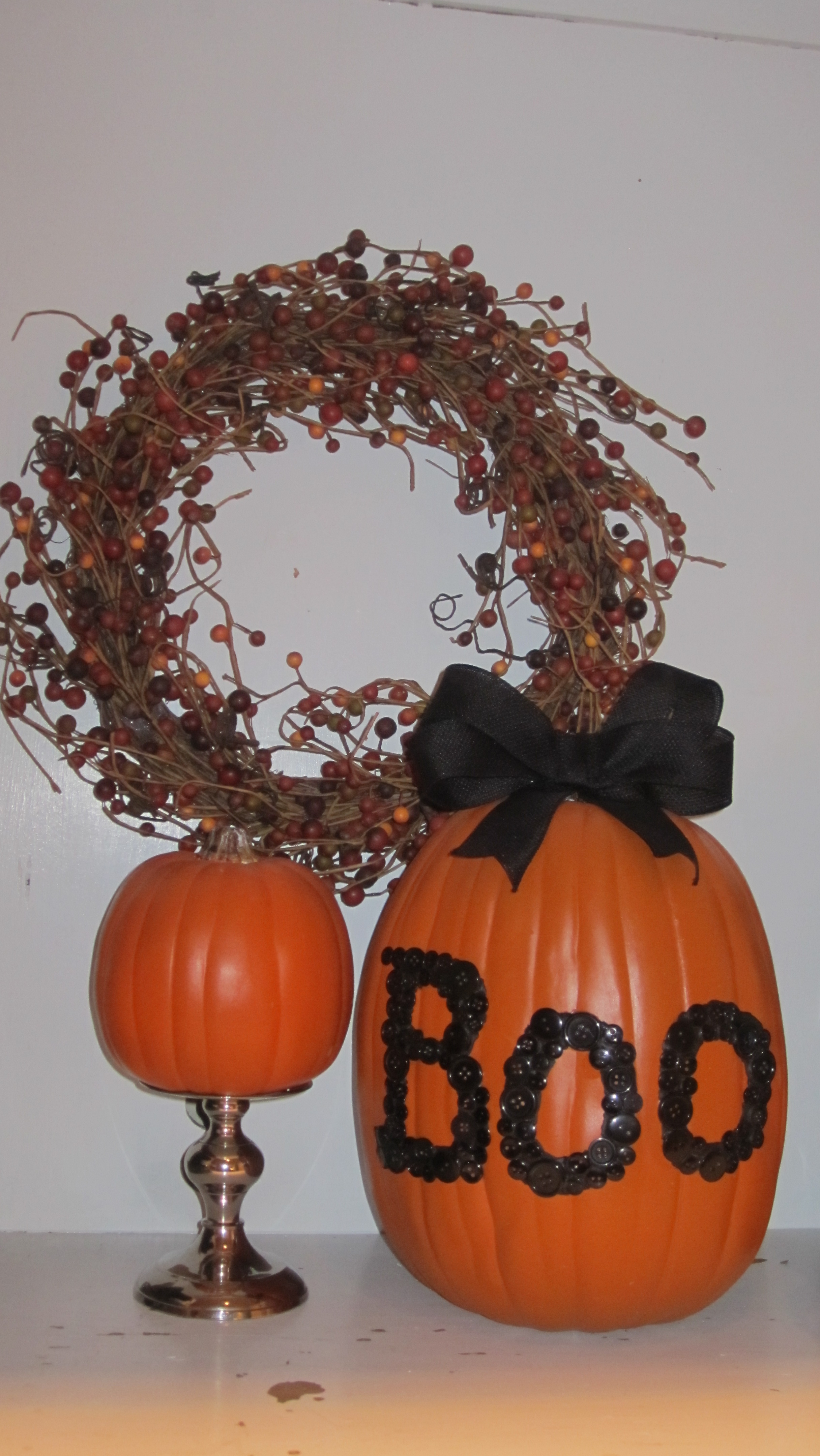 I know this is a little more cute and country but I like whimsical when it comes to Halloween.  I mean, I do have a 5-year-old.  No need for bloody, gory, creeping up from the deepest depths of the Earth decorations.  Heck.  Our jack-o-lanterns don't even end up with frightful faces.
How do you like to decorate for the Halloween season?